Day 11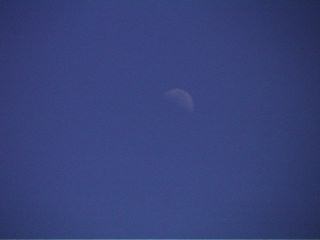 Time for us to leave Half Moon Bay. We get up early, eat breakfast, load up the car (and move to Beverly?!?) and head off to San Jose again. We take the scenic route via Rt. 84. The twists and turns don't make Christina sick this time out. We drive through the hoity-pa-toity town of Woodside, home to many multi-millionares. They seem to be having a Porsche get together. At least 50 Porches line the side of the road as we drive by. Finally we get to Palo Alto. Here we drive through the Stanford Campus before stopping at the Stanford mall. After some window shopping and lunch at McDonalds we head off to the childrens museum in San Jose. No pictures of any of the above since the camera was locked in the trunk of the car. Above though is a picture of the moon at 3:00pm as seen from outside the museum.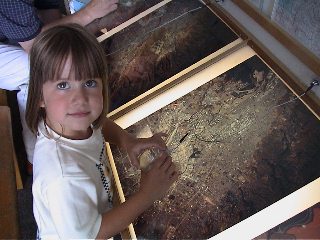 Jeannine is still looking for affordable housing in the San Francisco area. Here you see her using a magnifying glass to look at a satellite picture of the area. This was just one of the many things to do hands-on at the museum. The kids had a blast.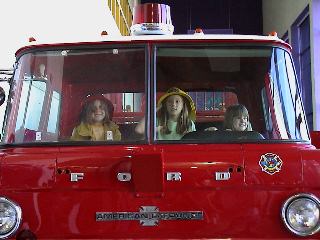 Here all three show off their fire-fighting skills. Jeannine is really working the steering wheel to get the truck to the fire. Papa would be proud.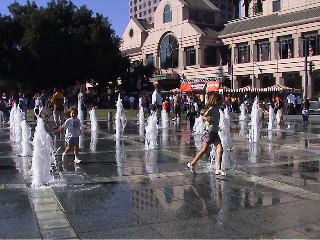 After two hours at the museum we walked a bit to the Fairmont hotel. That's where we stayed the last time we came to California. We visited the "dancing" fountains outside the hotel. The kids ran and ran through the water and had fun. We tried to stay at the hotel but they only had rooms available for $400+ a night! Finally we got to the DoubleTree hotel. We checked out the pool, nice and warm, and got set to sleep. Mommy and daddy disagreed, ahem, about what we should do tomorrow and we keep hearing about problems with United. Sigh...
Questions? Send me mail