Day 2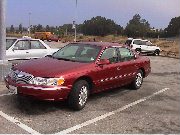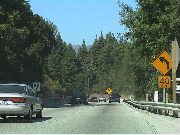 We got up bright and early, ate breakfast at the Hotel buffet. Can you say 1/2 a bagel per child? Then we got into our ride and went off to Santa Cruz...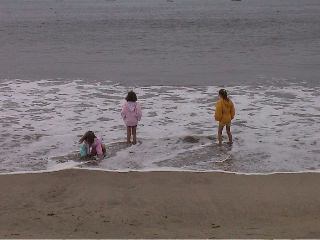 We arrive in Santa Cruz in time to open the "Boardwalk" amusement area. It is foggy, cold and the Boardwalk is empty. We send the kids into the Ocean. First Jeannine then Christina fall into the Pacific... Christina says it pulled her in. Jeannine is just a goof.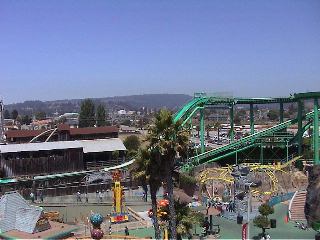 After a while the sun came out, everyone dried off and the Boardwalk opened. Christina and Nicole kept daddy from being scared on the ferris wheel (that's where we took this picture). Nicole said she would like to go again. Little did we know then that daddy would lose his Arizona hat on the log ride you see here. Mommy, Christina and Nicole liked it so much they went twice. Jeannine was scared and daddy was bummed so we didn't go second time. :(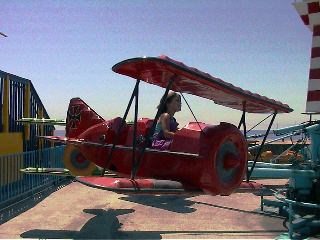 We had lot's of fun trying out the different rides on the boardwalk. We ate cotten candy, hot dogs, and ice cream. Yum. Christina even went on a roller coaster that goes over fifty miles an hour. Here we see Nicole practicing so that she can fly us home. The Airbus isn't that much bigger.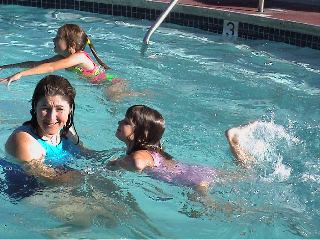 Finally we went back to the hotel and enjoyed the pool again. We drove throughout San Jose looking for a McDonald's to eat and found out, after a 20 minute ride, that there was one 1 block the other way from the hotel. So far things are great though Catherine isn't so sure about some guy's she has seen holding hands... Till tomorrow.
Questions? Send me mail