Day 3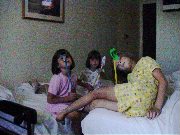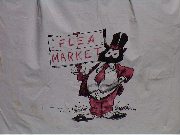 The kids got up bright and early and used the toys they bought from the Santa Cruz Boardwalk to "bite" daddy. We ate breakfast at McDonalds (what a find eh?) and then went on an excellent adventure at the largest Flea Market in north america.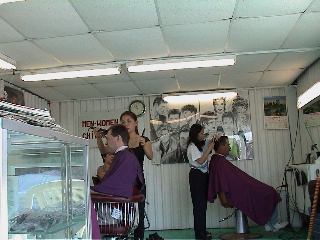 On a dare from mommy, daddy got his "flea market special" haircut. The kids had fun watching. Nicole wondered if I was going to be bald!?! After haggling and buying some small things at the market we went back to the hotel and swam in the pool. Daddy once again gets more stares than mommy.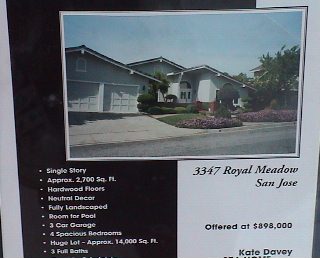 We pack up and head to Los Gatos to meet John and Kate for dinner. But first we check out the real-estate. Could this be our next house?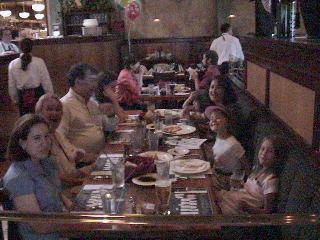 We all pose for the required picture at the Los Gatos Brewing Company. We had some great Ostrich meat as an appetizer. Hey look, Gina was able to join us as well.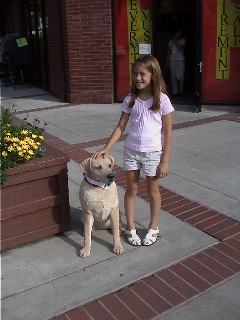 John and Kate invite us back to their house. We eat some pie and drink some coffee. Christina picks a lemon off of the lemon tree in the back yard and they make lemonade (1 part lemon, 2 cups sugar. Christina follows the dog around the house everywhere. I think the picture above, with a fake dog in Los Gatos, says it all. Finally we go visit Michael with cool hair and all at the Tower records where he works. Then a couple of Fleetwood Mac videos on John's awesome home theater setup and we head home preparing for our move to a new hotel and a ride on The Boat tomorrow.
Questions? Send me mail