Day 6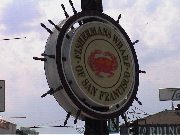 We slept really late again. Both mommy and daddy felt really rested. The lodge has a great breakfast buffet that includes fruit, yogurt, cereal and several kinds of pastries and muffins. Even with the late start we decided to head off to Fisherman's Wharf (Pier 39) in San Francisco.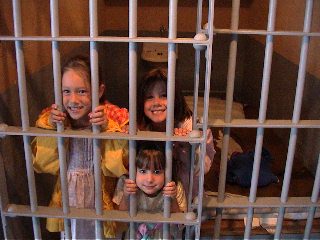 We spent quite a bit of time walking along the pier but before we knew it it was time to eat lunch. We stopped at the Alcatraz Bar and Grill. When the check came we didn't have money to pay so the kids ended up in jail... Oh Oh.... They do look kind of happy though.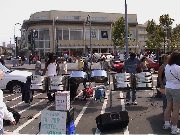 Since we were free of the little tykes we walked the main streets of the wharf. We ran into these guys who played garbage cans with a reggae twist. Their rendition of the Cops theme really rocked. They were out of CDs though and Catherine didn't want a tape (so passe).

Finally we felt a little guilty and we bailed the little runts out. We then took them to Ghirardelli Square. We bought some chocolates and drinks. The kids liked sitting by the fountain. They made a couple of new 80+ year old friends too (No not the mermaids!).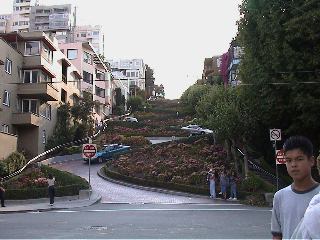 On the way back to the car we passed lots of street merchants. They are very much like what you'd find in New York. We bought some ice cream and also a leather jacket for Catherine. The jacket was cheap the ice cream was expensive. Don't know how we'll bring it back (The jacket not the ice cream). On our way out of San Francisco we decided to drive down Lombard street. Catherine was a little unsure of taking the *huge* lincoln down the street but we made it just fine. This was the highlight of the kid's day!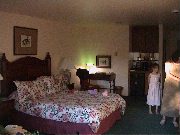 Finally, the promised picture of our room. Much roomier than the one in San Jose and the kids have their own room to boot. Tommorrow we'll post the picture of the kid's room.
Questions? Send me mail